Televic Confidea T Series
Digital Table-top conference system for discussion
این سری شامل مدل های :
Televic Confidea T-DD , Televic Confidea T-CD , Televic Confidea T-DV , Televic Confidea T-CV
Televic Confidea T-DI , Televic Confidea T-2D2I , Televic Confidea T-CI , Televic Confidea T-DIV , Televic Confidea T-CIV
•  سیستم کنفرانس با پردازشگر ديجيتال
•  دارای ظاهری بسیار شیک و محبوب
•  اتصال از طریق پورت شبکه به منبع تغذیه
•  پشتیبانی از قابليت کنترل اتوماتیک دوربین Auto Tracking ( در تمامی مدل ها )
•  پشتیبانی از قابليت رای گیری ( Confidea T-DV , Confidea T-CV , Confidea T-DIV , Confidea T-CIV )
•  پشتیبانی از قابليت ترجمه همزمان ( Confidea T-DI , Confidea T-CI , Confidea T-DIV , Confidea T-CIV )
•  داراي بلندگوي داخلي در هر کنسول با کیفیت بالا و صدايي بسيار شفاف
•  میکروفن گردن غازی عايق شده در برابر سيستم هاي موبايلي (GSM)
Natural Sound
The Confidea Series is renowned for its superb audio quality.
The Natural Sound produced by these conference stations drastically improves intelligibility and reduces fatigue during longer meetings.
Versatility
Installing the system is extremely easy.
For mobile installations that require regular setup and teardown, the autosensing connections of the units allow daisy chaining without any concerns for the less technically skilled.
With the connections hidden in the base, a clean and tidy setup can be created in permanent installations.
Built-in RFID reader
Built upon the successful first generation of Confidea® Wired, this new generation includes an RFID reader for identification and authentication.
With RFID, the system knows exactly who is seated where, expanding the possibilities in applications with electronic voting or free seating.
Plixus Powered
Confidea T is Plixus® Powered. It takes full advantage of the Plixus Conference Network Technology: an innovative, future-proof technology developed by Televic offering high performance, security and reliability in mission-critical conference applications.
Specifications :
——————-
Material : PC/ABS
Color : Black matt, RAL9011
Size (W x H x D ) : 230 × ۱۳۰ × ۶۰ (mm)
Weight : 480 g
Electrical Voltage : 48 VDC
Consumption : 3.5 W
Speaker Maximum output power : > 1 W
Speaker Frequency response : 200-20,000 Hz
Speaker Dynamic range : > 90 dB
Speaker THD @ nominal level : < 0.1%
Speaker Load impedance : 8 Ω
Headphone Output : > 10 mW
Headphone Frequency response : 22-22,000 Hz
Headphone Dynamic range : > 90 dB
Headphone THD @ nominal level : < 0.1%
Headphone Load impedance : 16-32 Ω
Microphone Nominal Input level : -54.7 dBV
Microphone Maximum input level : -24.6 dBV
Microphone Input impedance : 1 kΩ
Microphone Dynamic range : > 93 dB
Microphone Frequency response : 25-20,000 Hz
Microphone THD @ nominal level : < 0.1%
Televic Confidea T-CD
Chairman Discussion UnitFeatures :
————
•  Built-in high quality loudspeaker which is automatically muted when the microphone is active, to prevent acoustic feedback.
•  Microphone On/Off or request-to-speak button with two signalling LEDs
•  Two headphone outputs with single volume control
•  Priority and 'next-in-line' button
•  Two 3.5 mm jack plugs for headphones
•  Two RJ45 connectors
•  Screw lock socket to connect removable microphone
•  Compatible with Plixus Engines
Televic Confidea T-DD
Delegate Discussion UnitFeatures :
————
•  Built-in high quality loudspeaker which is automatically muted when the microphone is active, to prevent acoustic feedback.
•  Microphone On/Off or request-to-speak button with two signalling LEDs
•  Two headphone outputs with single volume control
•  Two 3.5 mm jack plugs for headphones
•  Two RJ45 connectors
•  Screw lock socket to connect removable microphone
•  Compatible with Plixus Engines
Televic Confidea T-CV
Chairman Voting UnitFeatures :
————
•  Built-in high quality loudspeaker which is automatically muted when the microphone is active, to prevent acoustic feedback.
•  Microphone On/Off or request-to-speak button with two signalling LEDs
•  Two headphone outputs with single volume control
•  Three voting buttons (+  ۰  -)
•  ۲ OLED voting result displays
•  RFID card reader
•  'Priority' and 'Next-in-line' buttons
•  Start and stop voting from the unit
•  System volume control
•  Two 3.5 mm jack plugs for headphones
•  Two RJ45 connectors
•  Screw lock socket to connect removable microphone
•  Compatible with Plixus Engines
Televic Confidea T-DV
Delegate Voting UnitFeatures :
————
•  Built-in high quality loudspeaker which is automatically muted when the microphone is active, to prevent acoustic feedback.
•  Microphone On/Off or request-to-speak button with two signalling LEDs
•  Two headphone outputs with single volume control
•  Three voting buttons (+  ۰  -)
•  OLED voting result display
•  RFID card reader
•  Two 3.5 mm jack plugs for headphones
•  Two RJ45 connectors
•  Screw lock socket to connect removable microphone
•  Compatible with Plixus Engines
Televic Confidea T-CI
Chairman Interpretation UnitFeatures :
————
•  Built-in high quality loudspeaker which is automatically muted when the microphone is active, to prevent acoustic feedback.
•  Microphone On/Off or request-to-speak button with two signalling LEDs
•  Two headphone outputs with single volume control
•  OLED information display (Volume bar and selected language)
•  RFID card reader
•  'Priority' and 'Next-in-line' buttons
•  System volume control
•  Two 3.5 mm jack plugs for headphones
•  Two RJ45 connectors
•  Screw lock socket to connect removable microphone
•  Compatible with Plixus Engines
Televic Confidea T-DI
Delegate Interpretation UnitFeatures :
————
•  Built-in high quality loudspeaker which is automatically muted when the microphone is active, to prevent acoustic feedback.
•  Microphone On/Off or request-to-speak button with two signalling LEDs
•  Two headphone outputs with single volume control
•  OLED information display (Volume bar and selected language)
•  RFID card reader
•  Two 3.5 mm jack plugs for headphones
•  Two RJ45 connectors
•  Screw lock socket to connect removable microphone
•  Compatible with Plixus Engines
Televic Confidea T-CIV
Chairman Interpretation & Voting UnitFeatures :
————
•  Built-in high quality loudspeaker which is automatically muted when the microphone is active, to prevent acoustic feedback.
•  Microphone On/Off or request-to-speak button with two signalling LEDs
•  Two headphone outputs with single volume control
•  Five voting buttons (++  +  ۰  –  –)
•  OLED information display
•  RFID card reader
•  'Priority' and 'Next-in-line' buttons
•  System volume control
•  Two 3.5 mm jack plugs for headphones
•  Two RJ45 connectors
•  Screw lock socket to connect removable microphone
•  Compatible with Plixus Engines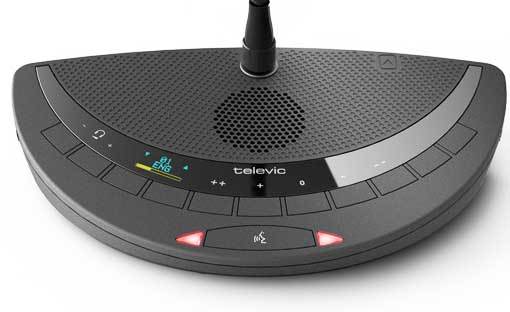 Televic Confidea T-DIV
Delegate Interpretation & Voting UnitFeatures :
————
•  Built-in high quality loudspeaker which is automatically muted when the microphone is active, to prevent acoustic feedback.
•  Microphone On/Off or request-to-speak button with two signalling LEDs
•  Two headphone outputs with single volume control
•  Five voting buttons (++  +  ۰  –  –)
•  OLED information display
•  RFID card reader
•  Two 3.5 mm jack plugs for headphones
•  Two RJ45 connectors
•  Screw lock socket to connect removable microphone
•  Compatible with Plixus Engines