Sony EVI-D80
Standard Definition SD PTZ camera
Features Sony EVI-D80 :
———————————-
Crisp, clear SD images
The ¼-type CCD sensor captures crisp Standard Definition images. Shutter speed, gain and white balance are adjustable for excellent performance under virtually any lighting conditions.
Wide 18x optical zoom
The 18x optical zoom range is complemented by 12x digital zoom for frame-filling close-ups of small objects, with every detail seen clearly. A choice of manual, AF or infinity focus modes gives full installation flexibility in any monitoring situation.
Fast PTZ operation
The stepper motor assures smooth, rapid movement to the target position over a wide pan/tilt angle range.
۶ presets
Pan/tilt/zoom settings plus focus, AE and white balance mode can be stored as six position presets for instant recall.
Standard or ceiling mounting
Installation flexibility is increased by a choice of standard or ceiling mounting options. The camera's E-Flip function automatically detects mounting orientation so output images are always the right side up.
Control remotely
Camera settings and PTZ can be controlled from a remote PC via RS-232C/RS-422 (VISCA) protocols.
Supplied IR remote
Easily control pan/tilt/zoom settings using the supplied infrared remote commander.
Stylish design
The camera's smart, sleek design fits unobtrusively into a wide range of security and monitoring environments.
Specifications Sony EVI-D80 :
—————————————–
Image sensor : 1/4-type CCD
Signal system – SD : NTSC/PAL
Lens – Focal length :
f=-4.1 mm (Wide) to 73.8 mm (Tele)
F1.4 to F3.0
Lens – Optical zoom : 18x
Lens – Digital zoom : 12x
Min. object distance :
۱۰ mm (wide) – 800 mm (tele)
*Default: 290 mm
Horizontal viewing angle : 48.0 degrees (wide) to 2.8 degrees (tele)
Focus systems : Auto, One-push AF, Manual, Infinity
Min. illumination : 0.4 lx (F1.4, 50 IRE)
Shutter speed : 1 to 1/10,000 s
Gain : Auto/Manual/Max. AE Gain Limit (-3 dB to +28 dB, 2 dB steps)
White balance : Auto, Indoor, Outdoor, One-push, Manual
Wide-D : No
Auto ICR : No
S/N ratio : More than 50 dB (3D Noise Reduction)
Pan/Tilt – Angle – Pan : ±۱۷۰°
Pan/Tilt – Angle – Tilt : +90°/-۲۰°
Pan/Tilt – Max. speed – Pan : 100°/sec
Pan/Tilt – Max. speed – Tilt : 90°/sec
Preset positions : 6
Video output – SD : VBS, Y/C
Camera control – Interface : RS-232C/RS-422
Camera control – Protocol : VISCA
Power requirements : DC 12 V
Power consumption : 6 W
Operating temperature : 0°C to 40°C (32°F to 104°F)
Storage temperature : -20°C to +60°C (-4°F to +140°F)
Mass : 1,440 g (3 lb 3 oz)
Dimensions (W x H x D) : 145 x 164 x 164 mm (5 3/4 x 6 1/2 x 6 1/2 inches)
Body colour : Black, White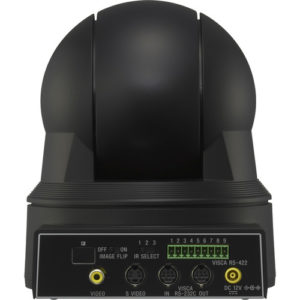 نمای پشت دوربین روباتیک تصویر برداری حرفه ای مدل Sony EVI-D80 – PTZ SpeedDome HD